This collection comes as a set with rods, railings and necessary fixings to create a stunning vertical jewellery display; you can choose from different presentation pads that allow to present your jewel designs in a store-front window, a cabinet or exhibition booths. The products shown are finished with duo-tone fabrics, all necessary hooks and inserts.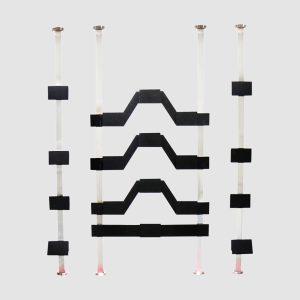 AMB000 Vertical Jewelry Display Set, Rods and Railings
Part of the Amber Jewelry Display Set:
Vertical Height of Rods (in cm): 130
Width of Center Railings (in cm): 80
Vertical rods, horizontal railings and all necessary fixings to create a vertical jewelry display set for store window, cupboard or exhibition booth. Add Presentation pads to display your jewelry creations.